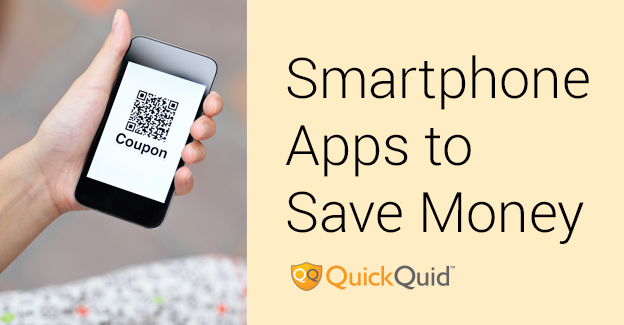 The number of smartphone owners in the UK has reached 72 percent. That means out of every 10 people, 7 of them own a smartphone!¹
Many use their smartphone to make purchases and search for product availability. Individuals between the ages of 18 to 24 gladly use their mobile devices for shopping and searching for nearby store locations.
What do you use your smartphone for? Perhaps you should begin using it to save money. Here are smartphones apps for you to download today to help you begin saving money:²
RedLaser
Available on: Apple, Android and Windows Phone
RedLaser helps its users shop smarter by comparing prices from the brands and merchants you love the most, both online and in-store. This app allows you to scan a product's bar code and compare it to the price of other local retailers and online marketplaces. Stores will often price match if you do find a better deal using the app!
Wi-Fi Finder
Available on: Apple and Android
JiWire Inc.'s Wi-Fi Finder helps you find hotspots in over 650,000 locations mapped in more than 140 countries.² You can find these free and paid hotspots both online and offline. This app is especially useful if you do not want to upgrade your smartphone's data package or if you are traveling.
RetailMeNot
Available on: Apple and Android
RetailMeNot locates tens of thousands of coupons from over 50,000 retailers for its users. On their app, you can browse deals and get exclusive coupon codes that you can drop directly into a retailer's website. This app also has a store where you can redeem coupons without printing.
mySupermarket
Available on: Apple and Android
The mySupermarket app does three things: finds the best deals of the day, compares baskets across 11 stores and helps you save 20 percent on every shop. With this app you can prepare your shopping list and compare prices between the top 11 grocery stores (in-store and online) in the UK. You can even order your groceries using this app!
Consumer Reports Mobile
Available on: Apple and Android
Consumer Reports is the largest and most trusted product testing organization in the world. Now they have taken their services and ratings on the go! On the new Consumer Reports smartphone app you can review product ratings, read customer reviews and seek advice on the most popular products while you shop. On this app, you can read unbiased reviews on the products you are planning to purchase.
References
Styles, K. (2013 24 June). 7 in 10 people in the UK now own a smartphone. Retrieved 13 January 2015 from http://mobilemarketingmagazine.com/7-10-people-uk-now-own-smartphone/
Daily Finance. (2015). Save Money With These 7 Smartphone Apps. Retrieved 13 January 2015 from http://www.dailyfinance.com/photos/save-money-with-these-7-smartphone-apps/
RedLaser. (2015). Retrieved 13 January 2015 from http://redlaser.com/
RetailMeNot. (2015). Retrieved 13 January 2015 from http://www.retailmenot.com/
mySupermarket. (2015). Welcome to mysupermarket. Retrieved 13 January 2015 from http://www.mysupermarket.co.uk/
ConsumerReports.org. (2012 May). Consumer reports mobile. Get ratings on the go! Retrieved 13 January 2015 from http://www.consumerreports.org/cro/2013/06/consumer-reports-mobile/index.htm
Comments