The United Kingdom is full to the brim with history, and nowhere is this more evident than in its county names. Have you ever stopped to consider the background of these names – their etymology? We did, and this map reveals a fascinating past.
Each UK country—England, Scotland, Wales and Northern Ireland—is divided into counties, which serve as subdivisions for political, administrative, judicial and cultural purposes. Many of the counties are known as Shires, which originated in the Anglo-Saxon kingdoms of the early Middle Ages. The literal meanings often came from early settlers in the area. For example, England has a rich Roman, Celtic and Anglo-Saxon history, which can be mapped out through its place names.
Cornwall is also known as 'People of the Horn,' which comes from the original Celtic tribal name, Cornowii. Many of the names are derived from geographical or natural landmarks in the area, such as the rivers that connect the British Isles. Herefordshire is taken from the Old English Herefordscir, which literally means 'ford suitable for the passage of an army' and was probably named in reference to the Roman road that passes over the Wye River.
Scotland also has much history left behind by its early settlers. Shetland can be translated to Hilt Land, or Hjält Land, which comes from Old Norse. 'Hilt' literally means the handle of a weapon or tool – most likely a sword. And like Northern Ireland, it has its fair share of Gaelic names. Across the isle you'll find Oak Grove and The Fort, more commonly known as Derry and Down. The map also reveals the UK's Viking history. The name Anglesey is thought to have come from Viking name Ongl's ey, or Ongl's Island.
So next time you decide to plan a road trip around the United Kingdom, you can use this map to take your pick from Deer County, Hilt Land, and the rest of the fantastic counties that make up this historical island.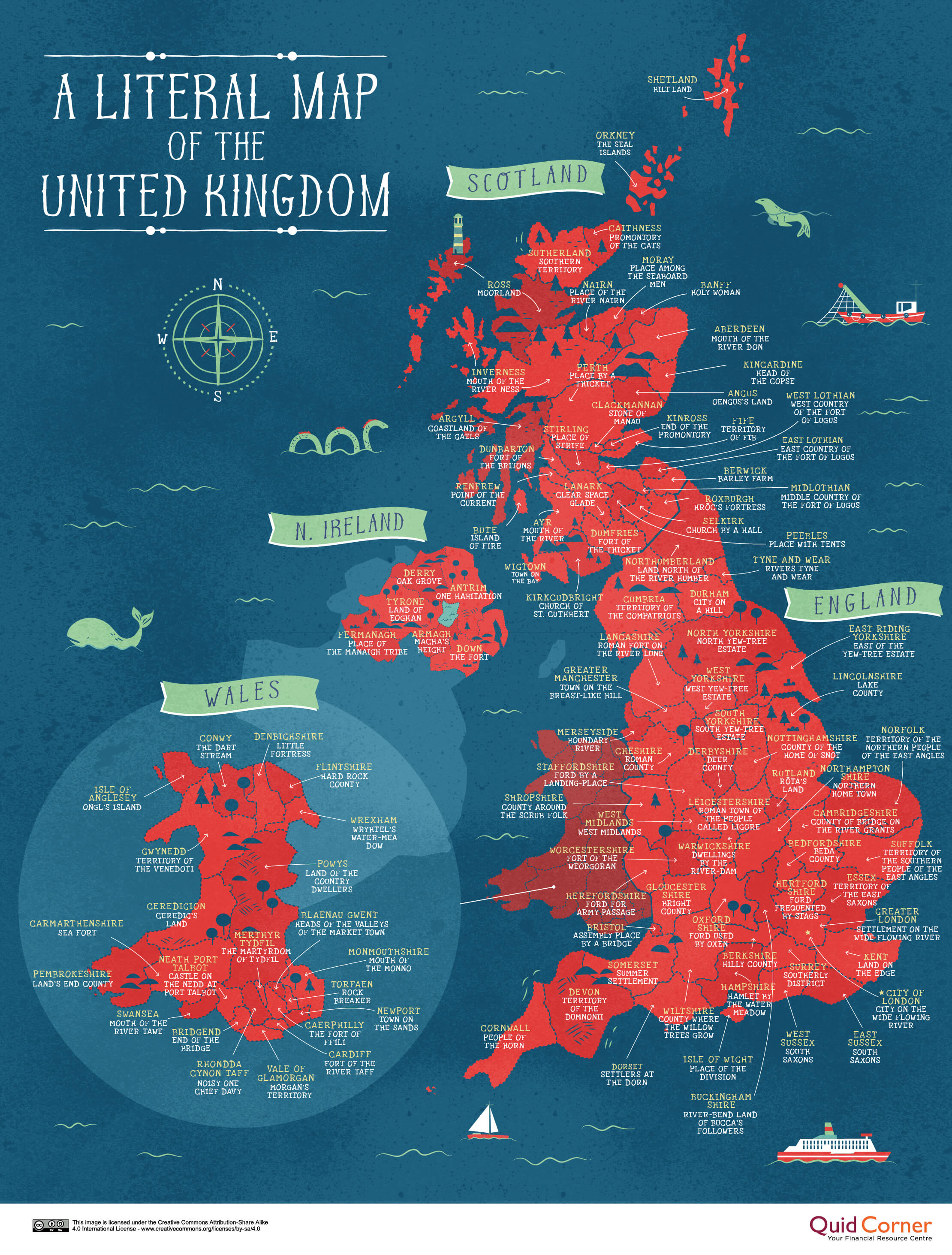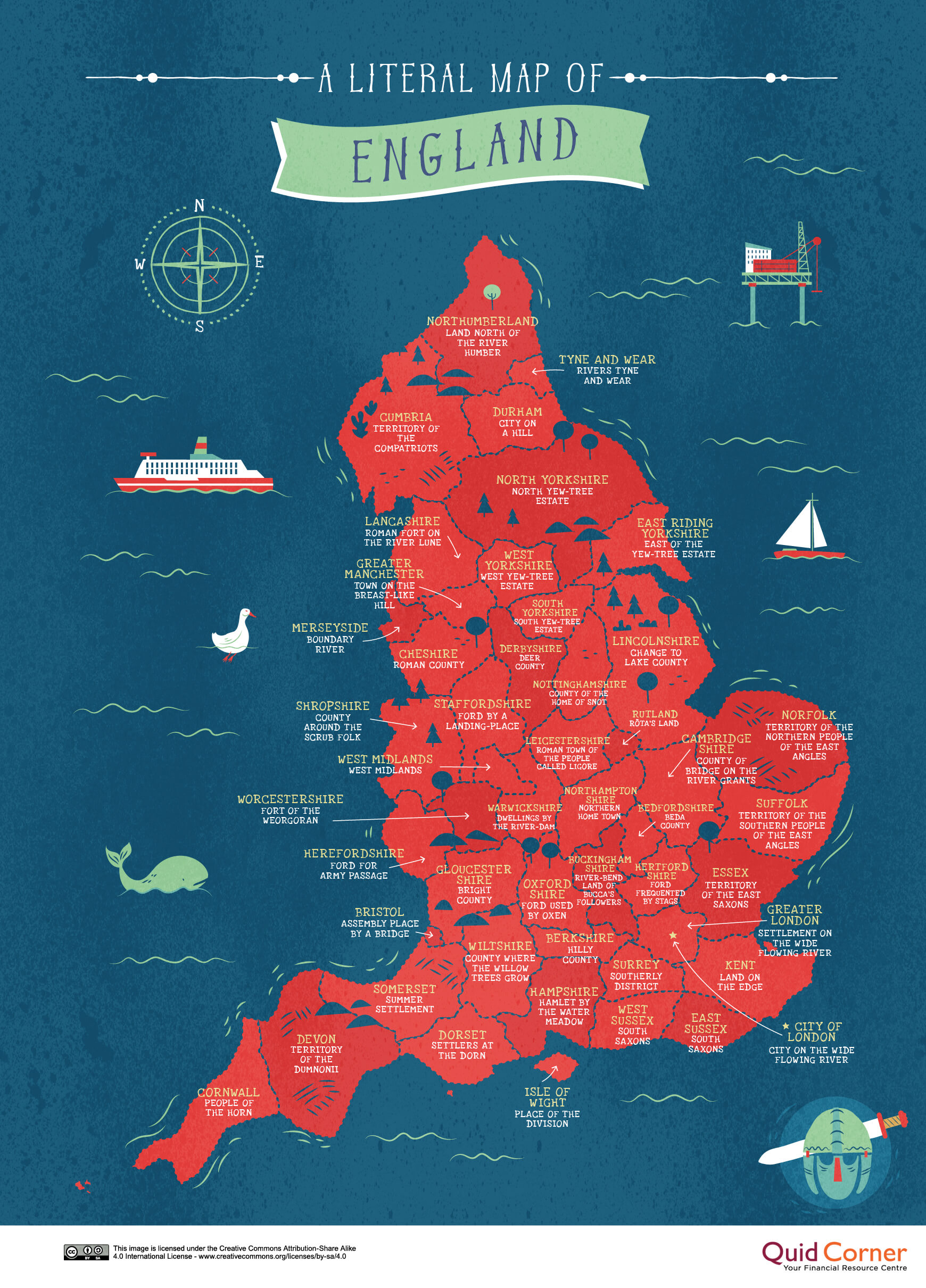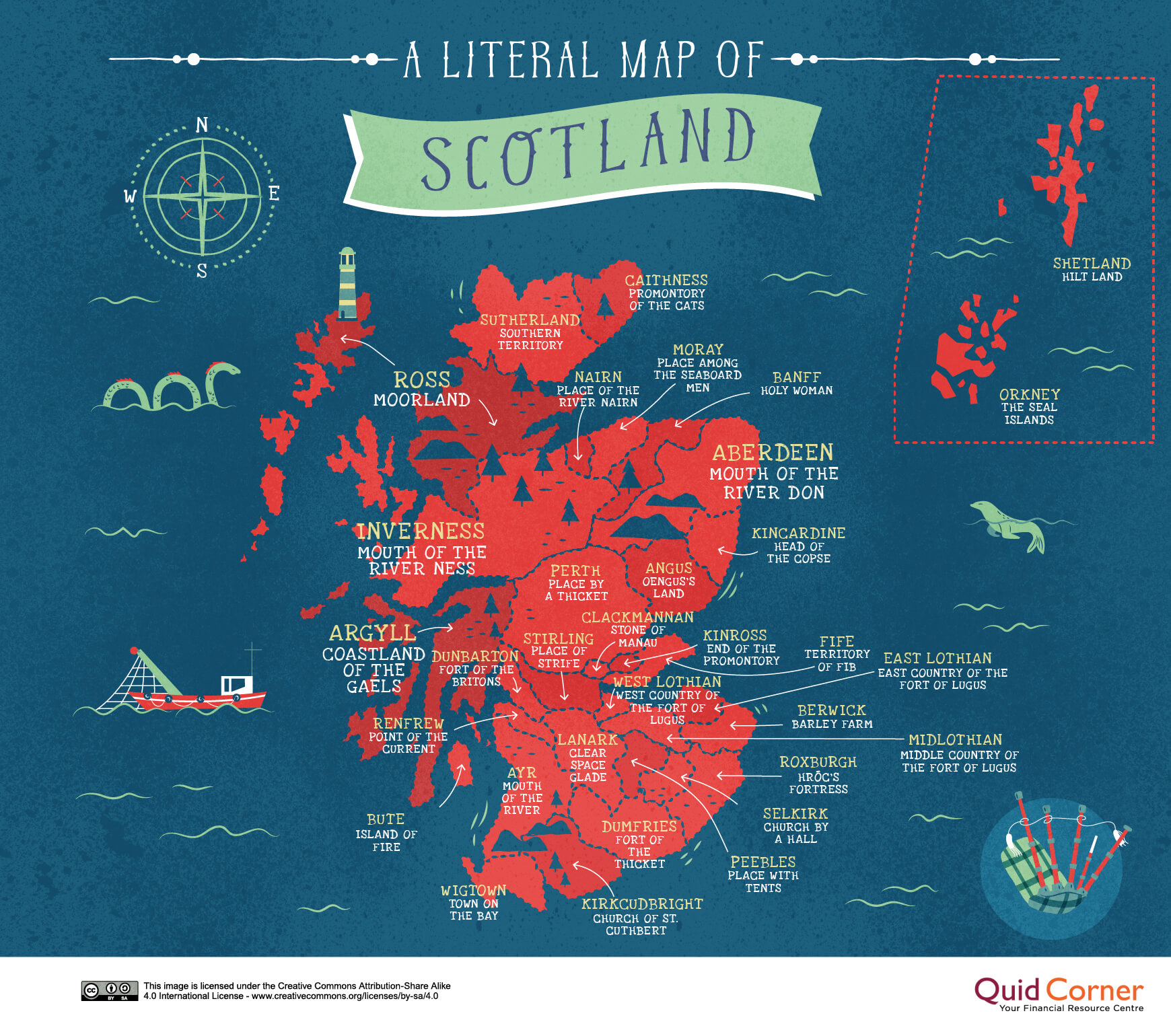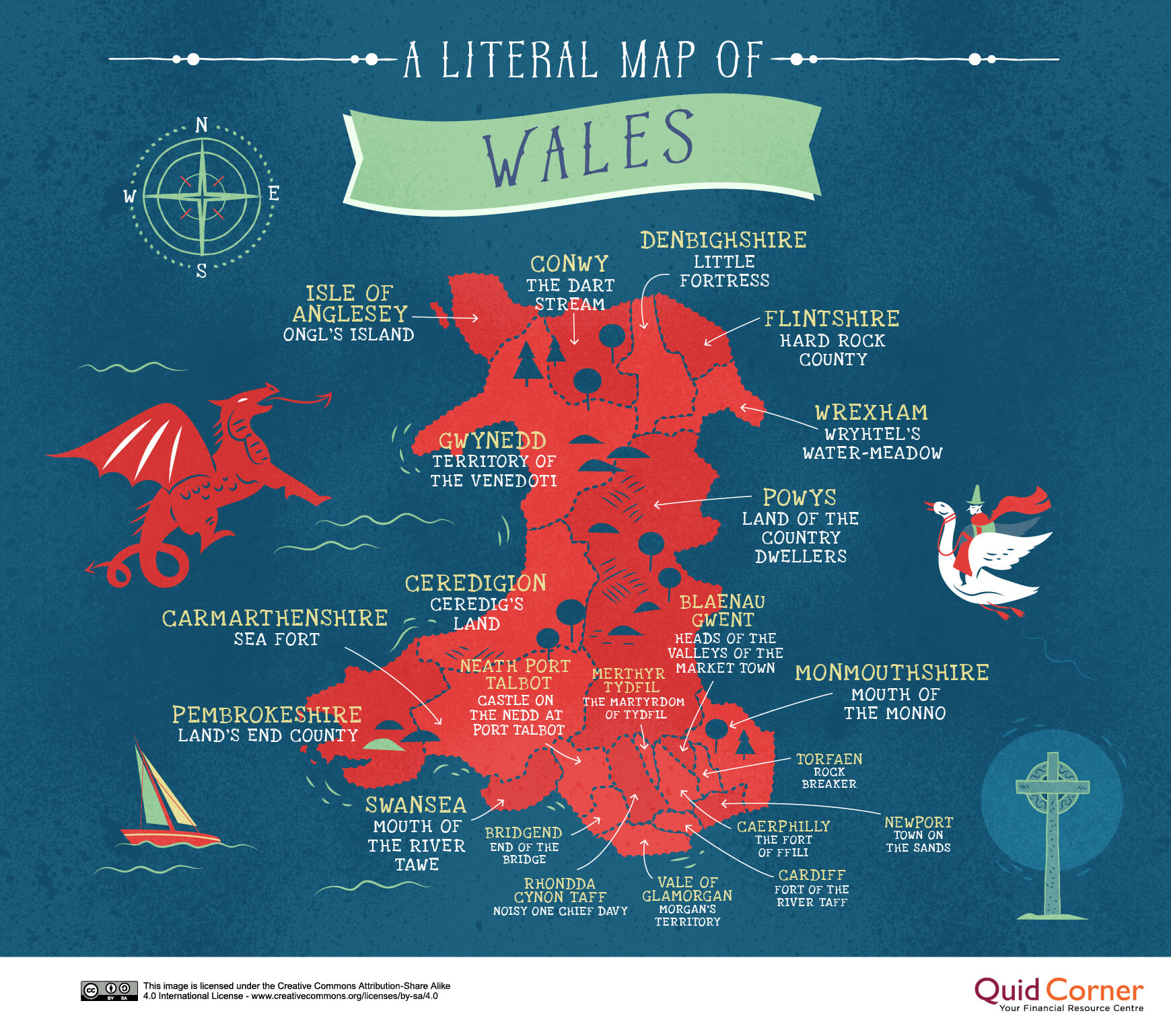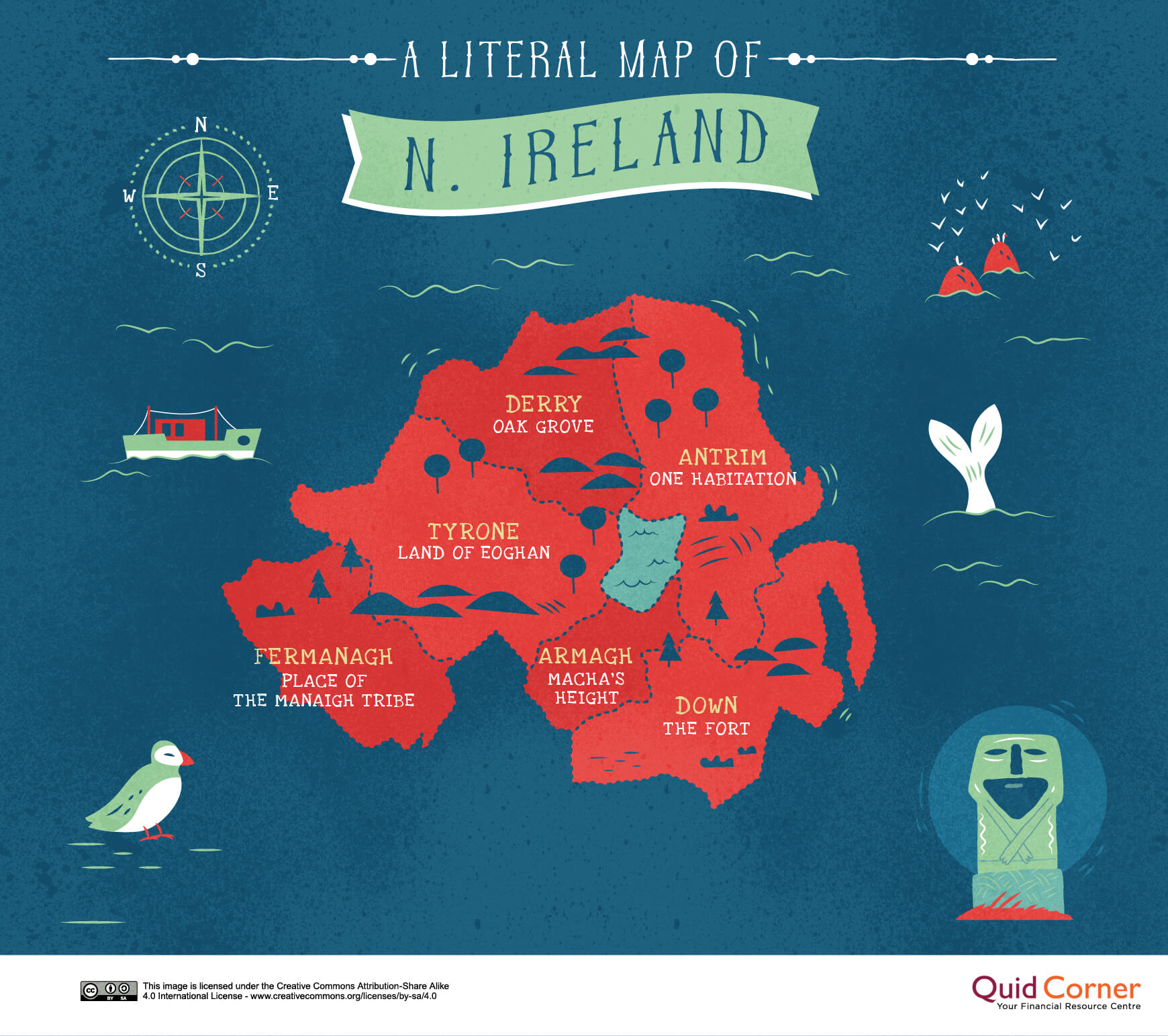 Sources
England
Bedfordshire, Berkshire, Bristol, Buckinghamshire, Cambridgeshire, Cheshire, Cornwall, Cumbria, Derbyshire, Devon, Dorset, Durham, East Riding of Yorkshire, East Sussex, Essex, Gloucestershire, Greater London, Greater Manchester, Hampshire, Herefordshire, Hertfordshire, Isle of Wight, Kent, Lancashire, Leicestershire, Lincolnshire, City of London, Merseyside, Norfolk, Northamptonshire, Northumberland, North Yorkshire, Nottinghamshire, Oxfordshire, Rutland, Shropshire, Somerset, South Yorkshire, Staffordshire, Suffolk, Surrey, Tyne and Wear, Warwickshire, West Midlands, West Sussex, West Yorkshire, Wiltshire, Worcestershire
Scotland
Aberdeen, Angus, Argyll, Ayrs, Banff, Berwick, Bute, Caithness, Clackmannan, Dumfriess, Dunbarton, East Lothian, Fife, Inverness, Kincardine, Kinross,  Kirkcudbright, Lanark,  Midlothian, Moray, Nairn, Orkney, Peebles, Perth, Renfrew, Ross, Roxburgh, Selkirk, Shetland, Stirling, Sutherland, West Lothian, Wigtown
Wales
Anglesey, Blaenau Gwent, Bridgend, Caerphilly, Cardiff, Carmarthenshire, Ceredigion, Conwy, Denbighshire, Flintshire, Gwynedd, Isle of Anglesey, Merthyr Tydfil, Monmouthshire, Neath Port Talbot, Newport,
Pembrokeshire, Powys, Rhondda Cynon Taff, Swansea, Torfaen, Vale of Glamorgan, Wrexham
Northern Ireland
Antrim, Armagh, Derry, Down, Fermanagh, Tyrone
Embed This Image On Your Site (copy code below):

Comments